Maly & Associates is Tucson's only one-stop provider for commercial and residential property maintenance.
Our commitment to quality is only exceeded by the pride we take in our customers' satisfaction.
At Maly & Associates, we know first impressions make lasting impressions. That's why we own and use the latest, state-of-the-art equipment and techniques to provide you with the highest quality service at the most affordable pricing, from parking lot sweeping to janitorial and landscaping.
Facilities Maintenance Services We Offer
Electrical & Plumbing Services
HVAC Service & Repair
Interior & Exterior Painting
Concrete Staining & Adobe Sealing
Sealing, Striping & Asphalt Repair
Masonry Work
Day Porter Services
Window & Blind Washing
Prompt Graffiti Removal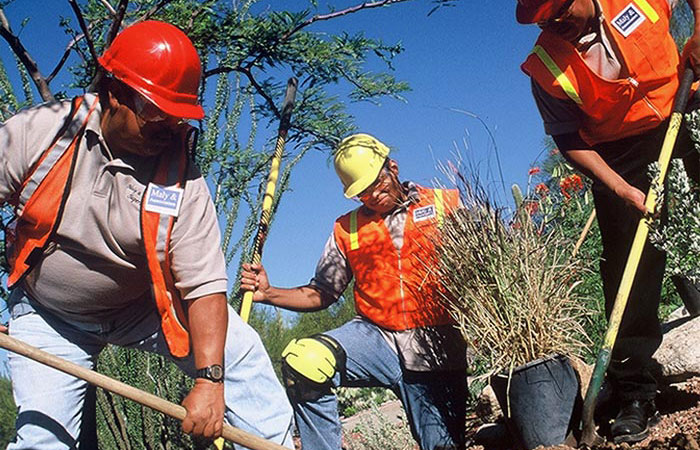 Landscaping, Tree Lifting, and Irrigation
Design, construct and install exterior hardscape
Design, install and maintain dramatic landscaping
Install, remove and maintain all plants, shrubs and trees
Irrigation consultation, installation and maintenance, with special focus on water conservation
Pre and post-emergent weed control
Parking Lot Sweeping
Day Porter services
Parking garage cleaning
Parking lot sweeping
Apartment & office complex sweeping
Corner & sidewalk blowing
Both broom & air sweeps available
Power Washing
Maly & Associates carries environmental insurance to protect our clients from liability. All pressure washing is performed with a state of the art water recycling 3200 PSI power washing unit.
Pressure Washing
Power Wash Driveways & Sidewalks
Building Washing
Window Cleaning
Concrete Cleaning
Gum Removal
Graffiti Removal
Handyman & Janitorial
Electrical and plumbing repair and maintenance
Carpentry, painting, graffiti removal and vandalism repair
Ceiling/tile repair and replacement
Cooler repair and replacement
Asphalt repair and striping
Trash removal
Prompt graffiti removal
Surface cleaning, polishing, vacuuming
Bathroom & lunchroom cleaning
Blinds cleaning and window washing
Floor and carpet maintenance
Stripping and refinishing floors
We do the job right and on time!
Over 3,000 properties and 35 years strong, Maly & Associates has maintained a reputation for excellence.
Call us today for a quote on our facilities maintenance services.
(520) 299-0856