Small kitchens don't have to feel cramped or unstylish. Smart decisions, like a clean black and white color palette, an abundance of cabinets and scaled-down seating, take this 250-square-foot kitchen from bite-sized to totally satisfying. Read on for tips on how to make your small kitchen a WOW kitchen!
Why black and white? A black and white color palette is the epitome of elegance and creates the illusion of space. All-white walls combined with white cabinets create flow throughout the kitchen because, with no interruptions, your eye keeps moving. At the same time, the black countertops add depth. Finally, the punchy checkerboard floor adds visual interest while sweeping you through the room.
Adding to the seamless look, the stove and refrigerator are flush with the cabinets, so nothing is bulky or intrusive. Recessed lighting, undercabinet, brightens task areas and the space overall.
The space also feels open and airy thanks to an abundance of cabinets to keep clutter at bay. Nothing makes a room feel smaller than items crowded on every available surface. With upper and lower cabinets on both sides of the kitchen, there is plenty of room to store all dinnerware, cookware, gadgets, cleaning supplies and more.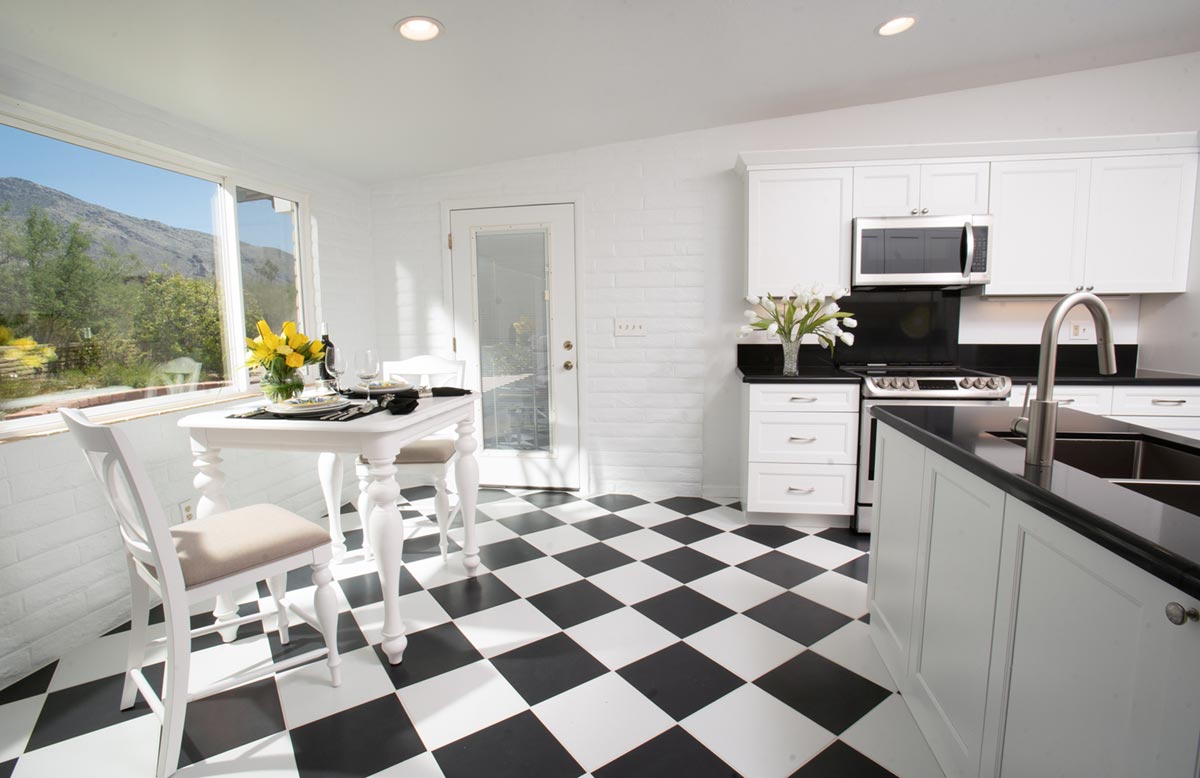 When working with a small space, whenever possible, don't block natural light. Foregoing window treatments further opens up this space and lets all that natural light shine in to illuminate the room—not to mention showcasing that view! Another contributing factor is the scaled-down table and chairs that stay out of the way. The set's small footprint is supremely space-saving.
While this high-contrast kitchen is anything but boring, it's fun to bring in pops of color with produce, flowers and ceramics. And there's no commitment! One week your accent color can be yellow, and the next red… or maybe blue! The good news about small spaces is that a subtle detail will have a huge impact.
Being short on square footage should never inhibit your kitchen's design potential. If you're interested in turning your small kitchen into a WOW kitchen, call 520-299-0856 and speak to a remodeling expert from Maly & Associates today!